TPE #68: 11 most common Google Ads mistakes (and what to do instead)
Nov 13, 2023
Read time: 4 minutes
Happy Monday — Miles here with The PPC Edge!
If there's one thing I've learned in PPC, it's that every account is different.
However, after spending over €50.000.000 for 100+ clients since 2018, I've noticed patterns in the most common mistakes that mess up accounts big time.
Let's just dive right in!
The 11 most common Google Ads mistakes that keep you from growing.
Again: every account is different. But when I take over a new account or do an audit, I often see the same mistakes.
Some are big, others small. Avoid these mistakes if you want to be great instead of average.
The 11 most common Google Ads mistakes that keep you from growing:
Not having clear goals and KPIs
Acting on assumptions instead of data
Not prioritizing conversion tracking
Not using third-party attribution
Not having a testing roadmap
Not having a clear optimization routine
Running wrong campaign types
Messing up internal matching
Targeting the wrong locations
Not auditing regularly
Chasing shiny objects
Obviously, there are tons more mistakes people make. I wanted to list the non-obvious, impactful ones.
Let's zoom in on each mistake, and what to do instead.
Mistake 1: Not having clear goals and KPIS.
As obvious as it may sound, most advertisers still aren't clear on their goals and KPIs.
As a Google Ads Specialist, it's not your responsibility to determine your client's goals and KPIs, but it is your responsibility to challenge them if they don't have any.
Without clear goals and KPIs, how are you going to analyze the data? How do you know if the campaigns are successful or not? How do you determine what to scale up or down?
You don't.
Bob and I both don't run any campaigns for our clients unless we know exactly what the overarching goals and KPIs are. And we do everything we can to help our clients set goals if they don't know how.
Mistake 2. Acting on assumptions instead of data.
I see this happening waaaay too often: PPCers who act on assumptions instead of real data.
We have a lot of data at our disposal in Google Ads, so use it. Don't make changes based on assumptions (unless you have a strategy to test against your assumptions, but that's a different story).
If you're not 100% sure why you're doing something, dive deeper into it or don't do it at all.
For example: when Performance Max launched, a lot of people thought audience signals were used for targeting purposes, but they only serve as suggestions for Google.
If you assume you're targeting a specific audience, while in fact you may not be… Well then without knowing it, you're going to encounter a lot of issues down the road.
And it will be extremely hard to solve those issues. So act on real data, not on assumptions.
Not sure if you're acting on assumptions or data? Here's a quick test:
Do you often say: "I think X happened because of Y…"?
Then ask yourself: "how do I know that's true?"
If you "think so", then you're acting on assumptions.
Keep digging until you "know so".
Mistake 3: Not prioritizing conversion tracking.
The best Google Ads Specialists ensure they have crystal clear tracking.
Average Google Ads Specialists never look into tracking because they feel it's not their responsibility.
Or even worse: they tracking irrelevant data, like micro conversion that make no sense.
This post from Boris Beceric (great guy, give him a follow) pretty much sums it up:
Here's a guide that takes you through the most optimal conversion tracking setup so you never make these rookie mistakes again.
Mistake 4: Not using third-party attribution.
You can't rely fully on Google Ads data because it's heavily biased towards itself.
Every ad platform loves to take credit for every conversion, as if there were no other channels that contributed.
That's why you need a third-party attribution tool: an independent analysis of the attribution across all the channels in the marketing mix.
Here's an example of Northbeam, but Bob uses TripleWhale:
Note: this is not as relevant for small accounts, but gets more important as you scale.
Mistake 5: Not having a testing roadmap.
Another big mistake I often see in accounts: there is no structured approach to testing.
It's an easy fix: create a testing roadmap that contains what you will test, why (hypothesis), and when.
Simple as that — don't overcomplicate it.
Always be testing, as Nils Rooijmans would say.
Mistake 6: Not having a clear optimization routine.
As an extension to that: most Google Ads Specialists don't follow a clear optimization routine.
They either optimize too much, or too little.
That's why we created the Google Ads Optimization Blueprint: a huge doc with 300+ checks and optimizations with frequency, campaign types, and more.
For now, it's only available for members of The PPC Hub, feel free to join us here.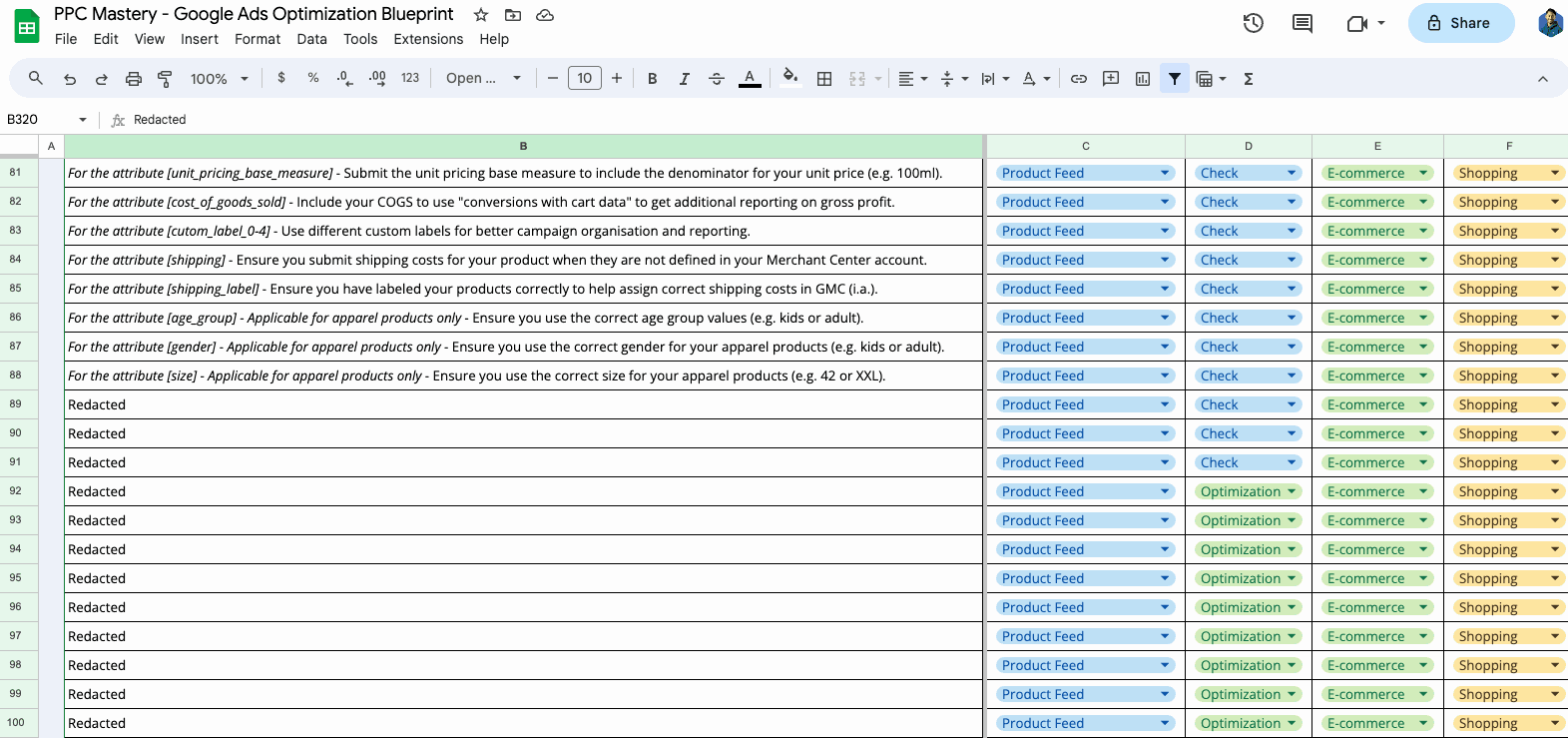 You want to think about what you do:
Once (set up and done).
Daily (checks, analysis, monitoring).
Weekly (hygiene optimizations).
Monthly (bigger projects that cost more time).
Quarterly (big, impactful experiments)
Etcetera.
Mistake 7: Running wrong campaign types.
A lot of specialists use the wrong campaign types.
Example 1: they rely too much on Performance Max to do remarketing.
Yes, pMax has built-in remarketing functionalities, but you can take back valuable control by leveraging dedicated remarketing campaigns.
Here's a guide that demonstrates how we look at full-funnel remarketing.
Example 2: they use the wrong video campaign types.
I've seen this in an audit recently: the client is heavily focused on bottom-of-funnel conversions, but they ran video campaigns for awareness (upper funnel). They should've opted for Video Action Campaigns instead.
Don't make these same mistakes and always ask yourself if you're running the right campaign types to reach your goals.
Mistake 8: Messing up internal matching.
Another big mistake: messing up internal matching.
I've seen it in sooooo many audits:
Non-branded Search campaigns with branded search terms.
DSA campaigns with branded search terms.
pMax campaigns with branded search terms.
Branded Shopping campaigns with non-branded search terms.
This messes up the data and scalability of your campaigns.
Unless it's a conscious decision, these are big errors in my book.
Mistake 9: Targeting the wrong locations.
I once saved a client $3K of spend per month by optimizing the location settings.
Context: it was a US client, but they accidentally got traffic from India, Pakistan, and Bangladesh.
We turned off "location of interest", which you can find in the campaign settings:
To check if you're spending money on locations that you haven't targeted, go to locations and click "matched locations".
You want your targeted and matched locations to be the same.
Mistake 10: Not auditing regularly.
A big mistake I often see: there is no auditing structure in place.
Every quarter, do an audit of your own account. Even better: get someone else to do an audit for your account.
You'll be surprised how many insights you'll gain from it.
Sometimes we're so deep into an account, that we miss obvious optimizations.
Having an extra pair of eyes on your account can be a gamechanger for your performance.
Takes guts and confidence to let someone else audit your account, though. Get ready for your baby to get roasted ;-).
Mistake 11: Chasing shiny objects.
The easiest way we can explain Shiny Object Syndrome:
Credits to marketoonist.com — their cartoons are hilarious!
We all love new, fancy ideas. But most of the times they're just distractions.
We suffer from this too, we're no saints.
The best way to deal with it is to acknowledge the distraction, and refocus your attention on what's important whenever you feel the urge to pursue something new.
Don't make these mistakes so you can scale profitably.
Once again: every Google Ads account is different.
Try to avoid these mistakes at all cost and witness how your results will improve.
If you liked this newsletter, feel free to share it on LinkedIn and tag us — we love seeing and interacting with your posts.
That's all for today — see you next week!
Cheers,
Miles (& Bob)
p.s. we're reopening the doors of The PPC Hub on Monday, November 20th with a very special Black Friday offer.
But our waitlist will get exclusive early access on Thursday, November 16th.
So if you want to secure your spot before everyone else, feel free to join the waitlist here.