TPE #61: how 5 failed side hustles made me a better PPC Expert
Sep 25, 2023
Read time: 4 minutes
What's up everyone, Miles here with another personal issue of The PPC Edge.
Today, I want to talk about the importance of having a side hustle.
Not necessarily to make money (although a little bit of extra income won't hurt), but to increase your skillset as a Google Ads Specialist.
Throughout my career, I've had a lot of side hustles. Most of them failed, but one of them led to starting PPC Mastery.
Through them, I learned a lot which helped me become a better PPC Expert and marketer in general.
In today's newsletter, I'll share my personal experiences with side hustles, what I learned from them, and why I think it's crucial for everyone to play around with side hustles.
Let's dive in!
What is a side hustle and why do you need one?
A side hustle is a project you have on the side, with the intention of making a bit of extra income. When I worked at an agency, I came across people online who were making more with their side hustles than their full-time jobs. That got me interested to learn more and start a side hustle of my own.
Popular side hustles that I tried:
Social Media Marketing Agency (SMMA)
Ecommerce (dropshipping/marketplaces)
Daytrading Crypto/stocks
Affiliate marketing
Online courses
Freelancing
Mind you: I didn't make any money with most of them. Even worse: I lost money. But… I also learned a lot.
I'll dive into each of them, the lessons they taught me, and how they've helped me become a better Google Ads Specialist.
Hopefully, my stories and lessons are of value to you!
Side hustle failure 1: Social Media Marketing Agency (SMMA)
After I graduated from college, my girlfriend and I traveled around Southeast Asia for 3.5 months. After we came back, I had no idea what I wanted to do with my career.
I worked a part-time job in a retail store (Makro) and came across an ad from a guy who could teach you how to make money with your own Social Media Marketing Agency (SMMA). He made it look really simple.
His name was Tai Lopez — some of you might know him ("knaaaawledge").
I bought his €997 course and figured I could start my own SMMA.
The only problem: I had no marketing or social media experience. So obviously, it failed.
I got exactly 0 clients. Great.
But I also learned a lot from the process.
Lessons learned and how this made me a better PPC Expert:
Online marketing is hard. It's easy to go to a local business and offer your services, but it's hard to actually deliver results. Especially if you have 0 experience.
I learned that I needed more experience if I ever wanted to run my own agency and get clients.
A few months after I tried this side hustle, I started working at an agency. Thanks to my SMMA experience, I took my agency job very seriously so that I could learn as much as possible. Indirectly, it helped me become a better PPC Expert.
Side hustle failure 2: E-commerce (dropshipping/marketplaces)
Before I became a Google Ads Specialist, I wanted to create my own e-commerce brand. I tried everything: dropshipping, marketplaces (Amazon/Bol FBA), and my own brands.
I made a few sales here and there, but overall, I lost a lot of money.
Dropshipping sounds very nice: you don't have to buy any inventory, you ship directly from China to your customers, and sell with high profit margins.
That's exactly why I fell for it. I'm not saying dropshipping doesn't work, but it wasn't the best thing for me.
Here are a few of my failed ecom projects:
1: Your Mini Figs (dropshipping)
My first ecom store was called Your Mini Figs. I sold LEGO figs and sets, straight from AliExpress.
I thought I was so smart: "you can buy them on AliExpress for $4.99 and sell them for $49.99".
Turns out: selling knockoffs from brands like LEGO is illegal.
Derp.
Here's my old Instagram account lol.
I made 1 sale, which I refunded.
Still learned a lot.
I built a Shopify store, but had no traffic. Turns out that getting traffic is actually hard.
2: Pull-up bars (marketplace: Bol)
My next big opportunity was selling pull-up bars and other items on marketplaces like Amazon and Bol.
When the first lockdown hit in 2020, I had the genius idea to sell pull-up bars.
Everybody was working out from home. Perfect, right?
I went to Alibaba and ordered 100 pull-up bars.
Within a week or two they arrived at our 50m2 apartment in Amsterdam.
When the delivery guy arrived, the pallet had broken…
So now we had to manually move 100 boxes with pull-up bars into our home.
And they were about 10 KG each.
Our entire apartment was filled with these heavy boxes.
It's an understatement to say that my girlfriend was not amused hahaha.
I was sure they would sell out quickly, but they didn't.
Apparently, fitness equipment is a highly competitive niche lol.
In the end, I just sold them very cheaply to get my investment back.
Here's what my house looked like (whoops):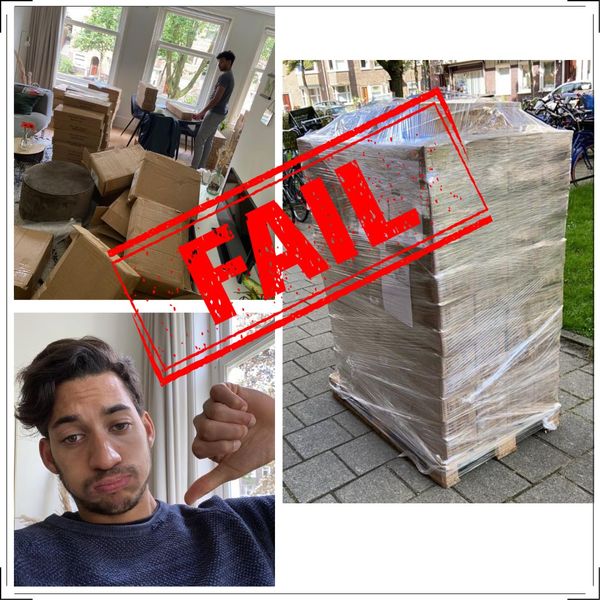 I can go on and on about my failed ecom projects, but I'll stop here…
You get the idea… Miles was hyped and thought he found his million dollar business idea.
Turns out: everything failed.
Although I didn't make any profit, I did become a better performance marketer.
Lessons learned and how this made me a better PPC Expert:
Through this process, I learned a lot about:
Fulfilling orders
Finding product-market fit
Researching and sourcing products
Calculating gross and net profit margins
How online marketing and advertising works
Dealing with hidden fees (shipping, payment, taxes)
Going through these challenges made me relate to my clients' challenges more.
Issues with fulfillment? Hard time being unique? High fees and low margins?
Been there!
At a much smaller scale, but still…
If I hadn't started my own (failed) ecom projects, I would've never had the success with my clients that I had over the years.
Side hustle failure 3: Day trading Crypto/Stock
Believe it or not: I came across another ad from a guy that made thousands per day day trading Crypto and stocks. How hard could it be?
Well… Very hard. Day trading is not for beginners.
Lessons learned:
Don't be a fool. Don't invest money you don't have, and don't invest in anything you don't understand.
I'll just leave it at that.
Side hustle failure 4: Affiliate Marketing
I tried another popular side hustle: affiliate marketing.
I'll say this: affiliate marketing 100% works, but it's not as easy as some gurus will make you think.
I wanted to create an affiliate website for software companies, but there was a lot of competition. I had to learn about SEO and website development, so I quickly gave up.
As I write this, I see a trend: I was chasing the "get rich quick scheme"… Whoops…
Lessons learned and how this made me a better PPC Expert:
I learned a bit about SEO, copywriting and website development, which helped me relate more to my clients.
In the end, these side hustles taught me to look beyond Google Ads, and truly understand what challenges go into building a business.
Side hustle failure 5: Online Courses
Online courses are great, because if you do it right, you can sell digital products with high profit margins.
But… It's not as easy as gurus will make you believe.
Before we launched PPC Mastery, I had a Google Shopping course (in Dutch). I spent months building it, and when it was finally finished, I thought the sale would come in automatically.
But just because you build it, doesn't mean people will buy your product.
I think I sold 10 courses in the end, for a total of +/- €3.000.
Not bad of course, but I spent months building it so my hourly rate was probably lower than €3/hour.
Lessons learned and how this made me a better PPC Expert:
Failing at my first course taught me a LOT:
Sales aren't guaranteed → you need a good marketing strategy
While you're creating your product, you need to simultaneously build an audience
You need to figure out what your audience needs, so you can build products for them
Designing, filming, editing, marketing all takes a LOT of time and can't be underestimated
How to present complex information in easy-to-understand, digestible formats
Failing at my first course has helped me become the marketer I am today.
Because of my failures, I now understand how important it is to build an audience and to provide value.
That hasn't only helped me in PPC, but also in serving you through PPC Mastery.
As a result, my overall marketing skills increased, which is beneficial for my clients as well.
My only successful side hustle: Freelancing
I started my PPC career at an agency in 2018. In 2020, I felt I had the skills to work for a few clients on the side.
Ultimately, this side hustle led to me quitting my job and building my own freelancing business.
Finally, a success after all my other failed side hustles, lol!
In case you're interested: here's the story of how I got my first client.
Lessons learned and how this made me a better PPC Expert:
Freelancing has taught me so much about myself, marketing, and business. All of a sudden, I was responsible for my life. For my own choices. For my clients' results.
It still feels soooo good to wake up every day and to be the boss of my own life.
A lot of people told me it's hard for freelancers to learn new things… But I have found that to be so untrue.
Freelancing has been the biggest leap for me in terms of my knowledge and how I serve my clients.
It's not for everyone, but if you want to live life on your own terms, I highly recommend it.
In conclusion: start a side hustle, and improve as a PPC Expert!
I recommend everyone to start a side hustle, because your skills as a PPC Expert and marketer will dramatically improve.
You will be able to relate more to your clients. As a result, you will get better performance, and work becomes more enjoyable.
You'll be surprised by how much you can learn by simply failing at something.
Worst case scenario: you learn a LOT.
Best case scenario: you even make a little bit of extra income on the side.
The best feeling is when the side hustle becomes the main hustle.
I hope my stories and lessons have been valuable to you.
That's all for today — see you again next week!
Cheers,
Miles (& Bob)